Charge It Battery Station Pro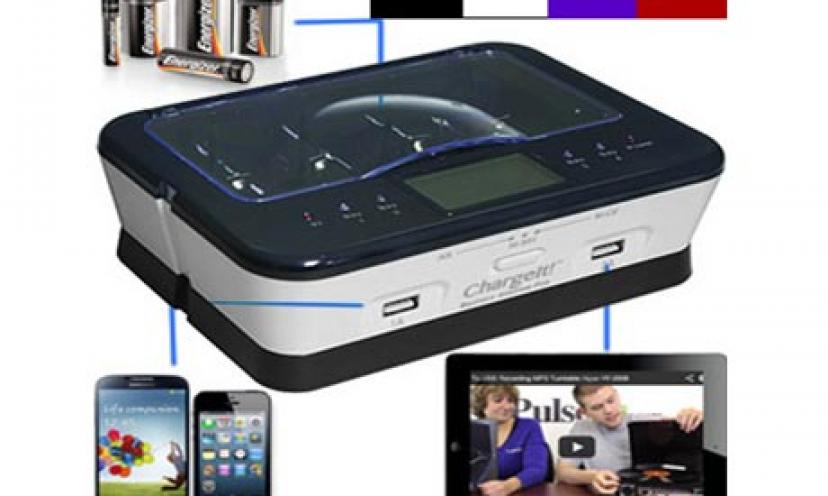 Charge It Battery Station Pro

Did you know you can recharge nearly any kind of battery? That's right, even your standard alkaline batteries can be rejuvenated to nearly full power! The ChargeIt! Battery Station Pro can replenish used or dead Alkaline, NiMH, NiCD, and other rechargeable batteries dozens of times more. USB ports also provide a way to charge all your mobile devices like smartphones, MP3 players, and tablets.

This station can recharge AAA, AA, C, D, and 9-Volt batteries in 5 different charging bays that adapt to the shape and type. All you do is plug the unit with the included AC adapter and select the battery type with the 3-way switch. The LCD screen and color LEDs will let you know when everything is fully charged. There is also overcharge and short-circuit protection.

FEATURES:
– Save Money and Reduce Waste
– Advanced Charger Rejuvenates Batteries Like New
– Charges AA, AAA, C, D, and 9V
– Recharges NiMH, NiCd, RAM, and Alkaline Batteries
– Charge Up To 5 Batteries at Once
– LCD Display and LED Lights Show Charging Status
– USB Ports: 1A and 2A
– Includes AC Adapter
– No color choice available

Note on Alkaline Batteries: Because of the chemistry of most alkaline batteries, the quality is simply not as good as standard rechargeable battery, so this charger can only recover 75-90% of the original capacity about 30 times depending on the quality of battery.
Does not work with Duracell Coppertop Batteries.

Take Me There*

*Price and availability subject to changes by vendor.