Get a FREE Bag of Dr. Elsey's Cat Litter!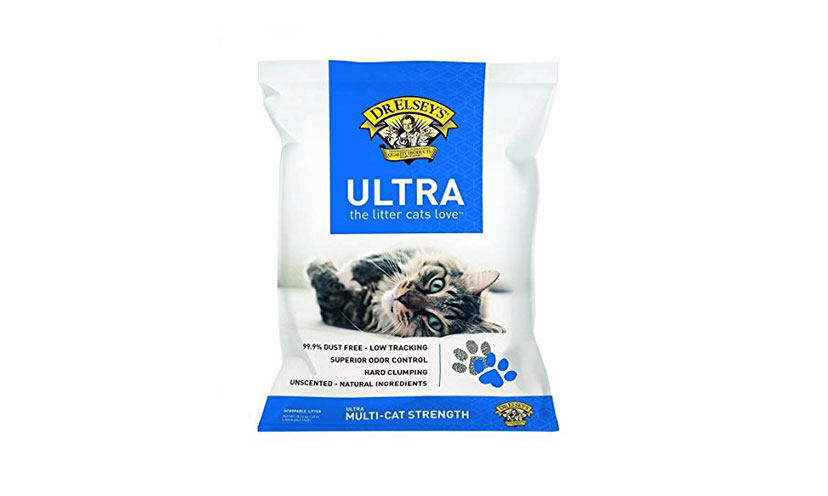 Freebie: Dr. Elsey's Premium Cat Litter.
Location: Find Dr. Elsey's Cat Litters and other products here or shop online at these retailers.
How to Redeem: Fill out a form and upload your receipt to receive a rebate.
Bonus: Dr. Elsey's will pay up to a $20 rebate!

If you don't have a cat, we can't imagine why you'd be interested in this sample so maybe you want to check out our other freebies instead!

Dr. Elsey's stands by their product and is trusted by many cat owners! Check out how to claim your free bag of cat litter here.

Why settle for a smelly home and an unhappy cat when you could have a giant bag of cat litter for free? Dr. Elsey's cat litter is one of the better smell-absorbing cat litter options, and now you can try a bag (up to 40 pounds) of it for free! Dr. Elsey's Premium Cat Litters are specially formulated to absorb smells, minimize dusty paws, and keep your cat's litter box fresher for longer. Choose between 16 different varieties of cat litter here.

Check out the instructions on how to get a rebate for a free bag of cat litter (up to a $20 value) here. A copy of your receipt will be required. This rebate offer is incredible because you can get up to a 40-pound bag of Premium Litter which costs around $19! This freebie is only available to new customers only. Your cat and your nose will be happy that you made the switch to another cat litter after all this time. Once you make your purchase, fill out a short survey, your mailing address, and upload your receipt here.

Download or fill out the rebate form online by clicking TAKE ME THERE to claim your rebate!

Star Rating for Cat Owners: 5/5 ⭐⭐⭐⭐⭐

This freebie can be found online at major retailers like Amazon or anywhere you can find Dr. Elsey's products locally.
This freebie is a rebate offered directly through Dr. Elsey's website.
This freebie requires that you to fill out a short online survey and to upload or mail in your receipt to redeem!
This freebie is not limited to an expiration date, get up to $20 back, that's nearly a 40 pound bag!
This freebie is for up a rebate of up to $20 worth of Dr. Elsey's Premium Cat Litter.
Take Me There*

*Price and availability subject to changes by vendor.